Social and emotional learning (SEL) is a process which helps children cultivate essential life skills including awareness of one's own emotions, fostering respect and care for others, establishing strong relationships, making ethical and responsible decisions, and handling adversity constructively.
Social and emotional learning is one of the most important strategies available to promote student success and effective school reform. Extensive evaluations have found that social and emotional learning enhances academic achievement, helps students develop self-management and self-control, improves relationships at all levels of the school-community, reduces conflict among students, improves teachers' classroom management, and helps young people to be healthier and more successful in school and life." ~The Collaborative for Academic, Social and Emotional Learning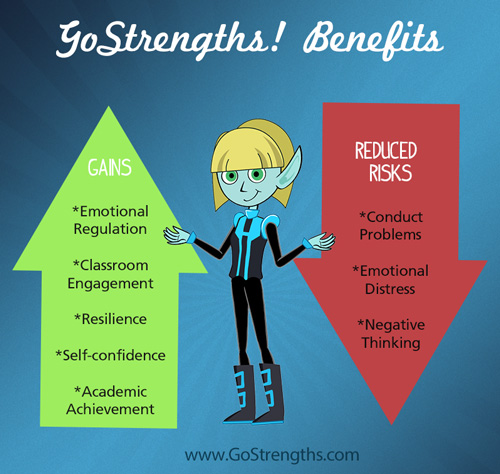 GoStrengths! is a Social and Emotional Learning Program
Have you ever felt the frustration of working with a talented student who didn't perform to their potential? Conversely, have you experienced the joy of working with a student who consistently overcame obstacles to reach their goals? What's the difference between these students? While we may attribute differences to demographics, background or just raw intelligence, science tells us another story: social and emotional skills have a tremendous impact on the long-term success of students.
Toward the goals of academic and life success, GoStrengths! provides a 10-module, research-based social and emotional learning (SEL) program for students ages 8-18.
The GoStrengths! program combines cutting-edge research from the science of positive psychology and neuroscience to deliver well-supported lessons in social and emotional learning. The program focuses on 8 core skills including goal-setting, problem-solving, resilience, optimistic thinking, character strength development, emotional intelligence, social connections, and self-confidence.
For teachers, it's never been easier to help students deal with life challenges, overcome academic obstacles, and strengthen important relationships. Students easily engage with material delivered with fun presentations including over 150 animations! Teachers also enjoy access to built-in teacher training along with lesson plans, worksheets, and interactive games to support each module.
---