Teach with Guided or Self-Guided Lessons!
GoStrengths! accommodates facilitated and/or completely self-guided lessons. You can watch the modules as a class and then discuss the concepts or have students watch the modules on their own before the discussion. Starting a module is as easy as pressing play! Animation-only modules work on all devices, or kids can be guided through by Neutrino, an intergalactic alien, with narrated slides and animations. This animation-centric approach captivates the attention of even the toughest youth audience!
---
Engage with Hundreds of Fun Animations!
Hundreds of animations are embedded directly into the program to engage both students and teachers! Your students will identify with many of the characters as they face challenges and obstacles similar to their own. In addition to being fun and engaging, the animations help to drive home the lessons and concepts taught in each module. In fact, research suggests that students who watch animations in conjunction with traditional lessons demonstrate a better understanding of the material. Below, find an animation demonstrating how fixed versus growth mindset children react in classroom environments. Push play to view.
GoAnimation! Stats
Quantity: 150+ animations and growing!
Length: 30 seconds – 5 minutes
Topics: Goal-Setting, Problem-Solving, Resilience, Optimistic Thinking, Character Strengths, Emotional Intelligence, Self-confidence, Social Connections, and many more.
Types: Explanations, Examples, Scenarios, Quizzes, GoTools! (special tools crafted by Neutrino to explain concepts)
---
Absorb New Skills with GoTools!
Neutrino provides your students with a GoTool! specially crafted from her planet Eudaimonia. What's a GoTool? A GoTool! is a special mnemonic device that helps your students employ the concepts they learned in the modules. In the clip below, Neutrino gives Nelly a GoCatch! Tool so she can collect her thoughts and examine them. Push play to view.
---
Practice New Skills with Interactive Quizzes!
After your students complete the modules, they are invited to practice their new skills with animated scenarios in GoTrain!  Your students will watch scenarios and then answer multiple choice questions about it.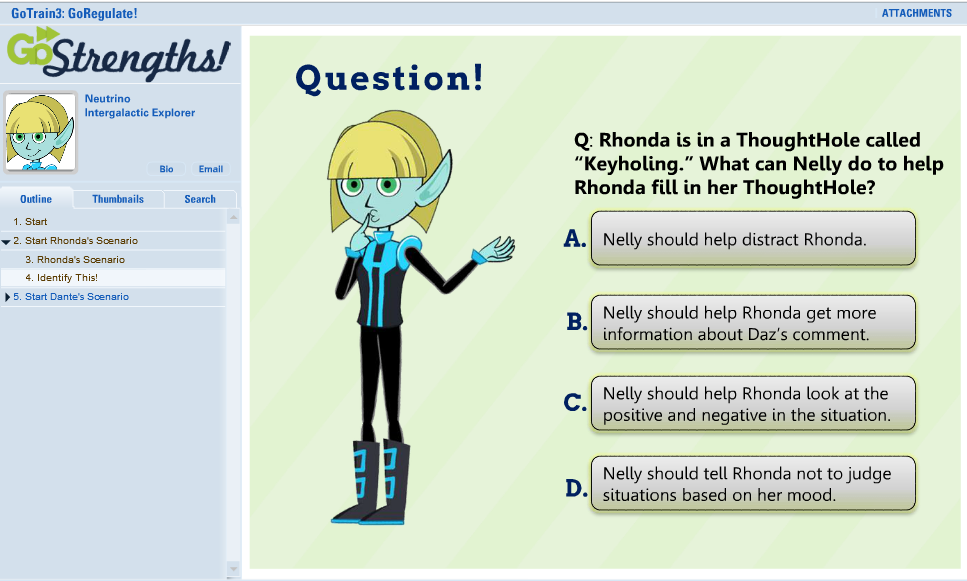 ---
Support the Modules with Lesson Plans & Worksheets
GoStrengths! makes life easier for teachers by providing:
Modules designed specifically for teachers to follow along with student modules
Quick lesson plans for each module
Activity worksheets for each module
GoStrengths! is perfect for me because it provides me with easy-to-use curriculum and lesson plans. I learn about the foundations for the lessons, then I can teach them to my kids using the video clips and worksheets provided on the website. Even better, the kids love it! They are completely absorbed in the lessons, and are always asking to watch 'Neutrino' again."

-Carly, 3rd Grade Teacher,  NYC Charter School
---