The Technical Definition
Post-Traumatic Growth is a term psychologists are now using to describe the positive change occurring in an individual after they've experienced a highly stressful life event. It refers to the idea that suffering does not have to debilitate a person. In fact, finding a way to endure through significant suffering can actually lead to meaningful development of personal character.
Huh, what does that mean?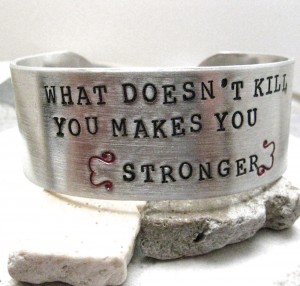 You've probably heard the popular saying, "What doesn't kill you makes you stronger." This is the essence of post-traumatic growth. Studies reveal that beyond returning to your baseline after a traumatic experience, you have the potential to experience a profound improvement in their lives.
Most of us are acutely aware that life does not always feel good. In fact, there are many experiences along our path that are uncomfortable, painful, and even deeply tragic. Post-traumatic growth is the idea that some individuals can come out of life's challenges "better" than they were prior to experiencing the trauma.
Most everyone has experienced some form of trauma — whether it was one significant event (e.g., a car accident, the loss of a coveted job, death of a loved-one) or occurred over a period of time (e.g., physical or emotional abuse, a hostile child custody battle).
The good news is that both children and adults may be able to experience meaningful growth and demonstrate great resiliency despite significant suffering. Post-traumatic growth research shows us after a trauma, individuals may feel one or more of the following:
More competent and self-reliant
Increased acceptance of personal flaws and one's own humanity
Improvement in relationships
Positive realignment of priorities
Strengthening of spiritual beliefs
Greater appreciation of one's life
How can I use this in my life?
What characteristics or qualities differentiate the individuals who experience growth after their traumas from those who do not? The following are a list of suggestions for what researchers have found will increase the likelihood of experiencing post-traumatic growth:
Accept that the trauma happened. Easier said than done; however, acceptance is one of the most important pieces of our journey to healing. Prior to acknowledging that some suffering is inevitable and there is no "do-over" in life, you won't be able to experience the freedom you need to move forward.
Affirm that there is meaning and purpose to life despite how discouraged you may feel. Seek out the things that you love and make life worth living. Re-visit hobbies or activities that you've enjoyed in the past or attempt new ones.
Persevere even when it hurts. Any journey that has value will not be without its challenges. Know that falling is part of the process, and it's the activity of getting back up that develops character.
Build your confidence. Despite what some believe, confidence is not an innate quality; rather, genuine confidence builds over time. Challenge yourself to take small risks and reward yourself for your small victories along the way.
Explore your faith or a spiritual side. Oftentimes it's in our hopelessness that we are challenged to look outside ourselves for answers. All of the major religions address the idea of suffering; decide what you believe and from where you derive your strength.
Offer relationship. Begin to turn your eyes toward others who may be suffering. With a renewed sense of empathy, having also suffered, consider how you can offer others support and encouragement. It is often by helping others with their own healing, that we can also learn to heal.
Begin to hope again. Consider a brighter future with more depth, now having a deeper appreciation for your life. Acknowledge that you have developed the ability to endure– and even find enjoyment in life even if inevitable suffering may be around the corner.
Cann, A., Calhoun, L. G., Tedeschi, R. G., & Solomon, D. T. (2010). Posttraumatic growth and depreciation as independent predictors of well-being. Journal of Loss and Trauma, 15, 151-166.
Calhoun, L. G., Tedeschi, R. G., Cann, A., & Hanks, E. (2010). Positive outcomes following bereavement: Paths to posttraumatic growth Psychological Belgica, 50 ( 1 & 2), 125-143.