"Sabrina, come take a look at this!" Mrs. Durango called her daughter to the front hall. The mailman had just dropped off a chunk of letters, and Mrs. Durango was weeding out the junk mail.
"Coming, mom!" Sabrina took the stairs two at a time and ran over. "What's up?"
"This flyer came in the mail. I think you should take a look. This sounds like it's just up your alley."
Sabrina took the bright purple flyer from her mother and read.
"Are you the next Fliderdale Fashion Star? Do you have a passion for fashion? Enter the Fliderdale Fashion Design Contest and you could win a chance to put YOUR fashions on the runway. Come to the mall THIS Sunday at 2pm and bring your best design! The winner will have real models wear their clothes! Be there or be square!"
Sabrina couldn't believe it. She read the flyer three times just to make sure she had all the details. This was her chance. She would finally be able to show everyone the clothes she had been working on for months!
"Well, Sabrina? Are you going to do it?" Mrs. Durango asked.
Sabrina thought for a moment. She had been so wrapped up in the excitement of the flyer that she hadn't stopped to consider her worries. "What if I don't win?" she thought. "Maybe the clothes I designed are not good enough. It might be embarrassing. She sat down on the couch and stared at the flyer. But even if I don't win, it will be a good experience, she thought. I'll get to see other designers' clothes and might be inspired. Also, I'll get to show off some of my own work. I have been working hard and my designs are good. I might even win the prize!"
"I think I'll do it," Sabrina told her mom. "I think I have a good chance!"
"Wonderful," said Mrs. Durango. "You're going to be great!"
Suddenly, Sabrina realized that the contest was only four days away. "I have to get to work!" Sabrina jumped up and ran upstairs. She began to sketch and started looking through her fabric bin.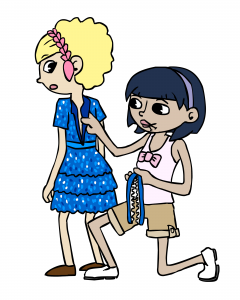 On Friday afternoon, Sabrina's best friend Nelly came over to model some of Sabrina's clothes. Sabrina had worked for hours the night before making a blue sequin dress that zipped up the back. Zippers were hard, but Sabrina knew she was up for the challenge.
Nelly put on the dress and as Sabrina tried to zip up the back, the zipper broke off and some of the fabric ripped.
"Oh no!" cried Nelly. "I ruined your project! I'm so sorry! What are you going to do now?" She turned around to stare at the gap where the two sides of the dress flapped open.
Sabrina looked thoughtfully at the zipper. "Don't worry, Nelly," Sabrina said. "I'll just do some more research to figure out a better zipper. It looks like this one wasn't secure. I know I can figure it out by Sunday if I put my mind to it."
"The dress is so beautiful," Nelly said as she carefully took it off and changed into her regular clothes. "I hope you win, Sabrina! I'll be there cheering you on. What's the prize?"
Sabrina smiled. "They put on a fashion show at the mall with real models wearing your clothes. It's my dream! I can just picture it." Sabrina had dreamt about accepting her prize ribbon on stage in front of a crowd of impressed mall shoppers.
On Sunday, Sabrina wrapped her dress in plastic and placed it carefully in her backpack. Her mother drove her to the mall, and Sabrina's brother Nik even came along for support, even though he claimed he was just going to check out a new skateboarding store that had just opened up.
When Sabrina and her family arrived, they saw a huge crowd gathered around the stage at the center of the mall. "Look at all these people!" Mrs. Durango said. "You go enter your name, Sabrina. We'll find a place where we can get a great view. Good luck!" Sabrina hugged her mom and walked to the contestants' table. In front of her, a girl in hot pink leggings was checking in. She was holding a beautiful polka dotted dress. Sabrina's eyes widened.
"You made that?" Sabrina asked. "That's impressive."
"Thanks," said the girl. Sabrina checked herself in and then looked down at her own design. It wasn't as advanced as the polka dot dress. Maybe the judges will see something unique in my dress and pick it anyway, she thought.
"I can do this, I have a chance of winning," Sabrina whispered to herself as she brought her dress backstage.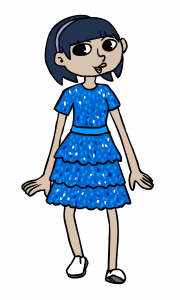 The crowd whooped and whistled as each contestant modeled his or her outfit for the judges. When Sabrina got on stage, she noticed her mom and Nik cheering loudly in the front. She felt thankful they were there to support her. She twirled around and the blue sequins sparkled in the bright stage lights. Then it was all over.
"Thank you all for participating in the first annual Fliderdale Fashion Design Contest!" The head judge's voice boomed over the microphone. The crowd grew silent.
"We had a lot of great contestants and it was a very hard decision. But now it's time to announce the winner… let's give a big congratulations to Paige Miller!" The girl with the hot pink leggings, who had made the polka dot dress, smiled widely and hurried up to accept her prize ribbon.
Sabrina felt a little disappointed at first. She sighed and headed backstage to collect her things. But as Sabrina gave it some more thought, her mood began to lift. "I've only been sewing for a few months. I know that I'll get better at making clothes if I spend more time learning. I have already improved so much since I started!" Sabrina almost laughed remembering the first outfit she had ever tried to make, a skirt that ended up looking more like a mop. Her blue sequined dress was the best thing she had ever made. "I bet if I work hard, I can win this contest next year, or the year after! I know I'll be a famous designer some day. And look on the bright side," she thought as she ran to find her mom and brother. "I am feeling so inspired!"
One point of view: Sabrina shows great strength of character is this story. Specifically, she demonstrates a ton of optimism or hope. She is optimistic about her chances of winning the Fliderdale Fashion Design Contest and believes that if she tries hard, she can eventually succeed. Sabrina quickly bounces back from frustrations or setbacks. When her first attempt at making an effective zipper on her dress backfires, Sabrina doesn't give up hope and quit. Instead, she does some research to figure out how to make the best zipper possible. When she doesn't win first prize in the contest, Sabrina is able to move past her disappointment and keep her spirits up. She doesn't get completely discouraged when she fails. Rather, Sabrina sees failure as a chance to learn from her mistakes and pick up inspiration from her fellow fashion designers. She remains hopeful that she will win first place some time in the future, as long as she keeps working toward her goal. Sabrina prefers to look on the bright side and often expects the best, rather than expecting the worst possible outcome.
Sabrina also shows other character strengths that are just as important as optimism. She is creative, and tries to think of new and interesting ways to use her ideas and her fabrics. She is curious and shows a love of learning, researching new ways to make the best zipper possible. She demonstrates a lot of courage—you have to be pretty brave to show off your creations in front of a huge crowd of people! Sabrina also shows perseverance. Even when she doesn't win the contest, Sabrina indicates that she will continue to work hard on her designs and not give up. She even shows gratitude when she takes a minute to appreciate that her mother and brother Nik are in the crowd, cheering her on and supporting her.
What do you think?