Empower Students with a GoStrengths! Course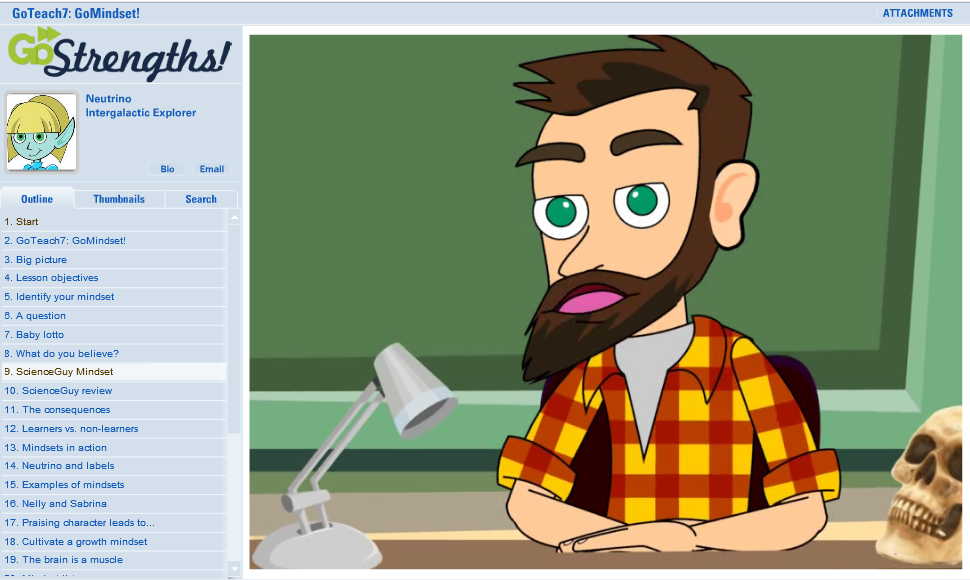 Students learn fundamental concepts of resilience and well-being with 10 interactive modules in the GoStrengths! course. Teachers love this virtual classroom as it captivates the attention of even the toughest youth audience!
---
Students Learn 8 Core Life Skills!
Each interactive learning module features one of eight life skills. Each skill is accompanied by a GoTool! – a fun, dynamic device which both serves as a mnemonic and empowers students to use the skill in their lives. Research-based exercises and practice activities further support each skill.
---
150+ Exciting Animations Engage the Toughest Audiences!
Animations come in different varieties including teaching, scenario, and quiz animations.
Sample Animation: Negativity Bias (Teach the Teachers)
ScienceGuy teaches teachers and parents about the Negativity Bias.
---
Sample Animation: Bad stuff is sticky (Teach the Students)
Neutrino teaches students about the negativity bias in a fun and friendly way!
---
Sample Animation: GoCatch Thoughts (Teach the Students)
Neutrino teaches kids about self-talk. She also offers two crucial tools in the resilience process.
---
Sample Animation: Strength Stories (Scenario)
Sabrina's mom teaches her to highlight her strengths with stories from her life.
---
Sample Animation: What should Nelly do? (Quiz)
Nelly is going through the 5Cs of resilience. What's her next step after GoCollect? (Answer below)
---
Sample Animation: Quiz Response (Quiz)
Quiz Answer: Nelly's next step is to GoChallenge! her original thought.
---
Sample Animation: The 5Cs Song (For Fun!)
Watch ScienceGuy and Mr. Diddlydoo recap the 5Cs of Resilience as a song!
---
Practice new skills with Interactive Quizzes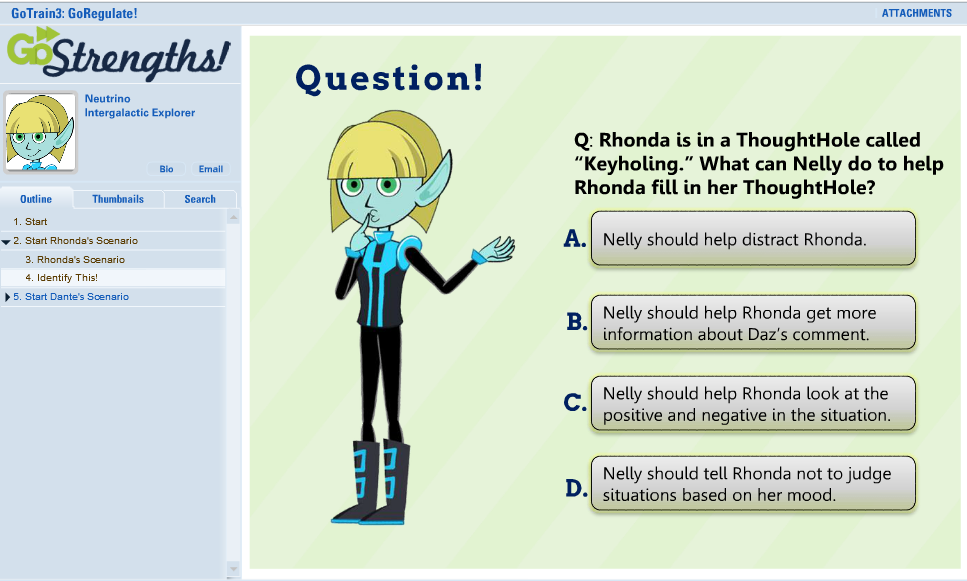 After each module, there are a set of interactive quizzes and worksheets to practice the concepts.
---
GoStrengths! Makes it easy for Teachers
GoStrengths! makes life easier for teachers by providing:
Modules designed specifically for teachers to follow along with student modules
Quick lesson plans for each module
Activity worksheets for each module
---